2021/07/04 / By hqt / Tags:
What Is the Difference Between CPE and Disposable TPE Gloves?
CPE vs. Disposable TPE Gloves: Which One to Go For?
Are you having trouble making up your mind between CPE and disposable TPE gloves? Well, you don't need to worry anymore. In this guide, we will tell you everything you need to know about CPE and TPE gloves. In the end, you will be able to decide which one is better for your needs. So, let's start right away!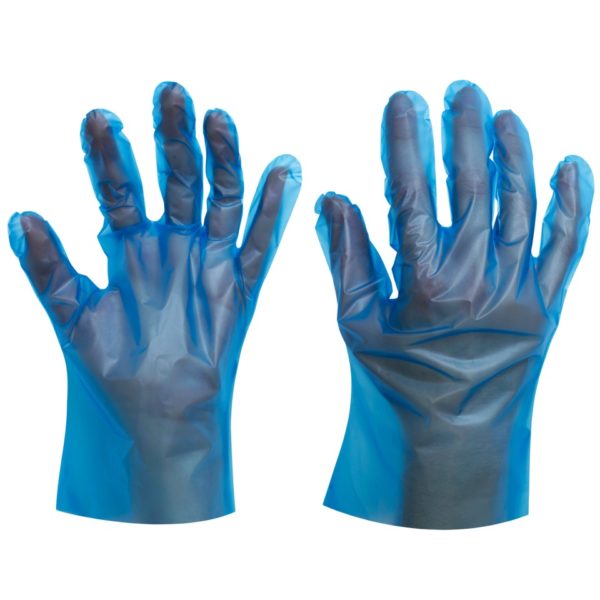 What are CPE Gloves?
CPE gloves are a lot like PE gloves. But, they have one characteristic more than that of PE gloves. They use the same material that PE gloves do with some addition of LDPE gloves. That's why they are also known as Cast-PE gloves.
Many people are of the misconception that CPE gloves are made from chloridize polythene. But, this is not the case. Chloridize polythene is not able to make film gloves.
At the first run through CPE gloves, it is made by chlordize polyethylene with wet projecting film machine, following not many years created, individuals found the extruder machine can likewise do it with extraordinary models, called film models. Be that as it may, typical blowing LDPE material can't utilize in cast film machines, since some material Dissolve Stream Rate can't fulfill guideline, if it can't arrive at 2.0 g/min, it will neglect to make a film in projecting machines.
How to Pick the Best CPE Gloves?
CPE gloves undoubtedly offer huge advantages to the workers. But, before you head out to buy the best gloves for yourself, there are some tips that you need to keep in mind. Let's check them out below.
1.      Go for the Ones That Are Durable
There are a lot of CPE gloves available in the market for you to choose from. But, you need to make sure that the ones that you buy are durable as well. Even though the best gloves will wear out someday, but they will not wear out as frequently as a cheaper pair would do.
2.      Make Sure They Are Comfortable
The gloves that you buy need to be comfortable as well. That's because you will be wearing them for longer hours. So, make sure that the gloves that you intend to buy have proper padding, insulation, and absorbency. Otherwise, there is no use in buying them.
What are Disposable TPE Gloves?
The disposable TPE gloves are basically the same as CPE gloves, some clients even don't have the foggiest idea how to recognize them. Almost same creation strategy, however unique material, that is the reason we additionally call it second era CPE gloves, C2 gloves, C2 PE gloves. CPE gloves, as a rule, utilize thick embellishing to build the inclination thickness, yet TPE gloves for the most part utilize smooth emblazoning to fortify its delicate inclination and better stretching and ductile. However, lately, a few clients need to stick and better hold TPE gloves, Blackbox design some new emblazoning called 3D decorate, jewel embellish, it actually quite welcome by all clients.
Why Should You Invest In Disposable TPE Gloves?
The disposable TPE gloves are gaining a lot of popularity at workplace these days. That's because of the many benefits they offer to their users. Let's take a look at some of them below.
1.      Hand Injuries Are Extremely Common At Workplace
According to a survey, hand injuries are more common at a workplace than any other type of injury. Almost 40% of all hand injuries reported on the job included punctures and cuts on the hands. These punctures and cuts can at times turn out to be really serious. Apart from this, fractures, sprains, and burns are some other common hand injuries. One of the top reasons for the cause of these injuries is the absence of proper training and hand protection. Moreover, the majority of these injuries could have been avoided if the workers were using proper construction gloves. This is why it is extremely important to wear gloves at the workplace.
2.      Excellent Grip
TPE gloves are not only injury resistant but offer an oily grip to the users as well. As a result, they become ideal for handling materials such as sheet metal that may present multiple hazards. In addition to this, the gloves also protect lacerations. What's more, the improved gripping action of the gloves is extremely useful as well. As a result, it does not only benefit the worker but the employer as well. To make the gloves cut-resistant and have an oily grip, the manufacturers use high-performance fibers. A common example of this is HPPE.  When HPPE is wrapped with fiberglass yarn or stainless steel, it provides the highest cut resistance to the gloves.
3.      Protection against Chemicals
Although some chemical hazards have been present at the workplace for decades, they are coming to the forefront recently. Hexavalent chromium is one of the major concerns of the workers working in the construction industry. This chemical is highly hazardous and must be avoided at all costs. This is where disposable TPE gloves come to your aid. They protect the workers against all the chemicals that are found in the workplace.
4.      Long-Lasting
Another huge advantage of disposable TPE gloves is that they are highly durable. That's because they are made of polymeric materials that are ten times more durable than rubber gloves. Additionally, some of the gloves also have an additional layer of polymer in them. This extra layer protects the area that wears out the most. An example of this is the area between the thumb and the first finger. So, if you are also considering getting work gloves for yourself, make sure that they are made of durable materials.
Final Words
Now that you know the difference between the CPE and disposable TPE gloves, we hope that you will make the best choice that will suit your needs. Contact us now for more information!