2021/07/03 / By hqt / Tags:
Choosing the Right Hand Gloves for Laboratory Use
Choosing the Right Hand Gloves for Laboratory Use
Hand gloves are essential for protecting skin from mild to severe skin damage. Human skin is sensitive to chemicals. Doing different laboratory tasks without gloves means your hand's skin will be at a high risk of getting damaged. The most common issues are chemical burns, lacerations, thermal burns, and exposure to cryogenic exposure. Therefore, it is necessary to protect your hands with appropriate protective gloves, especially for laboratory testing purposes. Today, we will try to help you how to choose the best protective gloves for laboratory use.
Buying Hand Gloves for Laboratories
You need to wear the best hand gloves while dealing with hazardous materials. In a laboratory, you will be handling toxic chemicals, sharp or rough-edged objects, very cold or very hot materials, and corrosive materials. Therefore, you must make sure to choose the appropriate and best quality gloves for complete protection. Usually, disposable neoprene or nitrile gloves are appropriate to protect against lab chemicals and incidental splashes. However, you must consult a professional to verify the compatibility of the chemical with the protective gloves you will use.
The need for high-quality gloves becomes more important when working with higher acute toxic chemicals. High concentrated corrosives and dealing with chemicals for long periods also require the selection of the most appropriate hand gloves. The selection should base on the task and chemical compatibility.
Here are the important considerations when selecting protective gloves:
Permeation Rate
Breakthrough Time
Degradation Rating
Now, let's take a quick look at the above-mentioned factors for a better understanding.
Degradation Rating
Degradation rating is the variation in the glove's physical properties. This variation occurs after contact with the chemical. Typically, degradation happens as swelling, cracking, shrinking, stiffening, or hardening of the protective glove. This rating shows how well the glove will work when working with the chemicals.
Breakthrough Time
It is the elapsed time between test chemicals' initial contact on the glove surface and the chemical's analytical detection on the glove inside. Before you buy hand gloves, you must inquire about the breakthrough time and make sure that it is perfectly alright.
Permeation Rate
Test chemical goes through the protective glove at a specific rate after breakthrough occurs and the equilibrium is achieved. This rate is known as a permeation rate. Permeation includes chemical absorption on the glove surface, glove diffusion, and chemical desorption on the glove inside. You cannot measure the permeation rate without the occurrence of chemical breakthrough.
Degradation and permeation happen under the lab test conditions. It may vary significantly from the actual work environment conditions. The selection of protective glove material for mixtures depends on the shortest possible breakthrough time.
Major Types of Gloves and Their Use
Take a look at the following types of gloves with their uses. It should help you choose the most appropriate glove materials for your specific use.
Butyl: Butyl provides excellent permeation resistance by water vapor and most gases. It is especially ideal for ketones and esters uses.
Neoprene: This glove material provides reliable heat resistance and tensile strength, but offers modest abrasion resistance. This material is suitable for many oils, caustics, and acids.
Nitrile: Nitrile gloves are exceptional general-duty hand gloves. They protect from several solvents, petroleum, and oils as well as from corrosives. They are also known for their excellent resistance to snags, abrasions, punctures, and cuts.
PVC: PVC material is appropriate when you need gloves that are abrasion-resistant and protect hands from acids, petroleum hydrocarbons, and most fats.
PVA: It is another common glove material that offers high resistance to gases. Choose PVA gloves if you need to protect your hands from chlorinated and aromatic solvents. However, you cannot use these gloves for water-based solutions or in water.
Viton: Viton is a material that offers great resistance to aromatic and chlorinated solvents. It also provides reliable resistance to abrasions and cuts.
Silver Shield: Silver Shield provides resistance to various hazardous and toxic chemicals. You can choose silver shield gloves when you need greater chemical resistance.
Natural Rubber: This material offers resistance and flexibility to an array of caustics, acids, alcohols, detergents, and salts.
Usually, manufacturers of gloves have compatibility charts of chemicals for gloves. You can find these charts online for a better understanding.
Other Considerations
Sometimes, you need fine dexterity, but you cannot achieve it with the manufactured product. You can opt for dual gloving with the less compatible material and replace outside contaminated gloves immediately. You can also wear tight-fitting gloves in particular situations, like when wearing protective Silver Shield gloves. It will help you increase dexterity.
Glove thickness, length, and size are other important considerations. Usually, the thickness of hand gloves is measured in gauge or mills. 10-gauge gloves equal to 0.01 inches or 10 mills. Lighter, thinner gloves provide better flexibility and touch sensitivity. However, they may reduce breakthrough times. Usually, you can quadruple the glove breakthrough time by doubling the glove thickness.
Choose the glove length according to the depth to reach with your arm or where the splash of chemicals is. If you need extra immersion or splash protection, you can choose 14+ inches longer gloves. The size of the glove is also an important consideration. Make sure that the glove you buy is not too tight neither too loose. Otherwise, you will have difficulty in doing tasks. You can buy gloves in different cuff designs, colors, and lining.
Proper Use and Care of Gloves
Before you use hand gloves for laboratory testing purposes, you must inspect them for any puncture or degradation. You can tap or blow air inside the gloves to check for pinholes. Never fill your gloves with water as it will make gloves uncomfortable. You should replace disposable gloves if there are any contamination signs. It is essential to wash reusable gloves frequently, especially after extended use.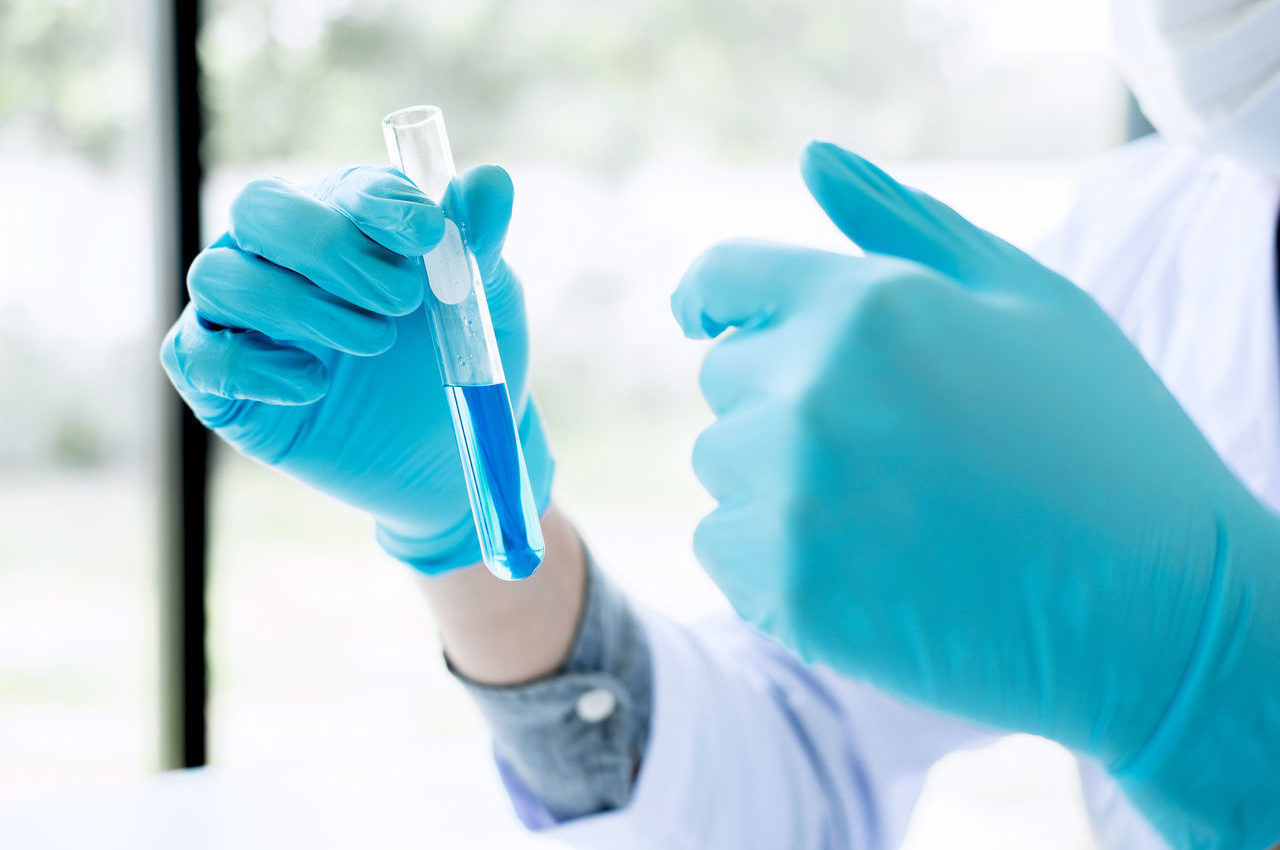 Always buy original, top-quality gloves from reliable suppliers. For further information about laboratory gloves, you can talk to us anytime.