2022/04/24 / By hqt / Tags:
How to use protective face mask in hospitals?
Today, a protective face mask is a mandatory item, without which it is impossible to visit public places. Depending on the material and degree of protection, masks perform different functions: some reliably protect against infection, others are useful only when in contact with household chemicals, for example, while cleaning the house.
Firstly, to buy a suitable mask, you need to pay attention to its type and degree of protection. I will tell you the main thing about the choice of protective masks.
How are many types of masks?
To protect the respiratory system and prevent the spread of infections that transmit by airborne droplets, WHO recommends the use of medical three-layer masks? They can only be disposable. Medical masks are made of non-woven material, which provides reliable protection and does not impede breathing.
These masks do not protect the people who wear them, but those around them. Doctors use such masks to maintain sterility, and those who are sick, so as not to infect others.
Protective functions of hygienic masks
Hygienic protective face mask are made from cotton, gauze, neoprene and other materials - these are reusable products that have a favorable price compared to disposable ones. If you follow the rules of use, they can become an alternative to disposable masks. This confirms by medical studies, the purpose of which is to compare the effectiveness of medical and hygienic masks.
The data showed that under laboratory conditions, the throughput of hygienic masks is worse than that of medical ones.
 This ability is also influenced by environmental factors. For example, moisture greatly reduces the protective functions of hygienic masks.
Medical masks has a high degree of protection
Doctors work at the epicenter of the infection use respirators and disposable medical protective face mask with a high degree of protection. The filter material of medical masks does not pass micro particles up to 1.3 microns in size.
This is enough to prevent most viruses from entering the body. Such masks protect both the person and those around them, but they have a significant disadvantage: they make it difficult to breathe.
Respirators can be good to use not only by doctors, but also by everyone who comes into contact with sick people. They protect both the wearer and those around them. But for walking and visiting public places, it is better to use medical masks - they are more convenient and also provide reliable protection.
Degree of protection
Each protective face mask must comply with certain standards and regulations. Medical products must have a quality certificate; in addition, they must comply with GOST.
Medical masks test before they go on sale. The main criterion is filtering. According to European standards, the following protection classes distinguish: EFB1 - filtering more than 95% and EFB2 - filtering more than 98%.
Each protective face mask and respirators, including reusable ones, test for inhalation. A mask considers being of high quality if it filters and prevents aerosols from entering the face. These products have three protection classes: FFP1, FFP2 and FFP3.
FFP1 is a low level of protection and filtering
It will protect 80% or more percent from getting an aerosol on your face and it will be able to filter out no more than 20–22%.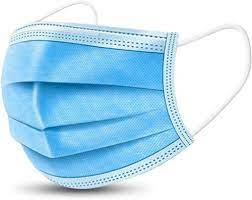 The minimum protection against micro particles on the face in the FFP2 class is 94% and higher. Through such a mask or respirator, no more than 8% of microbes will penetrate inside. Masks with this degree of protection can be good to use to protect against infection with infectious diseases.
FFP3 masks has the most reliable protection
FFP3 are protective face mask and respirators with the most reliable protection. Their filtration is at least 99%, and leakage inside is a maximum of 2%. Such masks and respirators are good to use by medical workers who are at the epicenter of the infection.
To protect against infection, especially in public places, WHO and the Ministry of Health recommend the use of three-layer masks.
If contact with sick people is likely, it is necessary to use masks with a high level of protection - FFP3.
Reusable sheet masks
Reusable cloth masks are almost useless in the fight against viruses. You need to use them during cleaning, in contact with cleaning powders or aerosols. Such masks will reliably protect against the penetration of suspensions and aerosols into the respiratory tract.
They are made from gauze, cotton, neoprene and similar materials. Not all reusable protective face masks have the same degree of protection. It all depends on the material from which they were made, and the number of layers of fabric - they can be from two to six.
Fabric masks cannot call medical. They can only protect when combined with other measures: social distancing, frequent hand washing and the use of sanitizers.
Medical masks are much more effective, they do not pass the infection.
Filters in masks
You can increase the effectiveness of a protective face reusable mask using replaceable filters that insert into its inner part. In total there are three main types of filters: three-layer, carbon and anti-aerosol. Each filter has its own indications and features of use.
Three-layer filters are made of non-woven material, more often composite - SMS.
S - Spun bond. This is a composite consisting of polypropylene fibers. And the task of this layer is not to allow biologically active liquids and chemicals to pass through. It has high antibacterial properties.
M - Melt blown. It plays the role of an adsorbent, that is, it does not allow dust, microorganisms, and allergens to pass through.
Features of the material and three layers trap bacteria, reliably protect against aerosols
There are about five additional layers in carbon filters protective face mask for a high level of protection. The first layer filters dust, the second protects against industrial pollution, exhaust gases, allergens and tobacco smoke.
The third layer activates carbon, which filters micron dust and provides full protection against small particles, including viruses.
The fourth layer is responsible for the density of the filter, and the fifth filters out harmful substances.
Rules for wearing and using medical masks
The main rule of wearing any protective face mask: it should fit snugly on the cheeks, chin and bridge of the nose, cover the nose, mouth and protect the chin.
Ordinary three-layer medical masks can be worn for no more than two hours, with a higher degree of protection - from six to eight hours. After this time, the mask becomes a hotbed of micro flora, because it saturates with moisture. These masks cannot wash, they must dispose of.