2021/03/06 / By hqt / Tags:
Choice for Household Gloves
Household gloves are personal protective equipment for the skin. They protect hands when doing household work from mechanical damage, chemicals and various contaminants.
Criterias of choice
When choosing household gloves, pay attention to the following points:
Products should protect the skin of the hands as much as possible, without creating discomfort.
It is important that the characteristics of the gloves are suitable for the work to be performed and that they can withstand certain loads.
Gloves should provide comfort during work, allowing you to pick up objects of various sizes and shapes, as well as feel them.
You do not need to use oversized products - they must fit the size of your hand. It is also important that the gloves retain their original shape well. Jiazhanli products have done a good job at this point!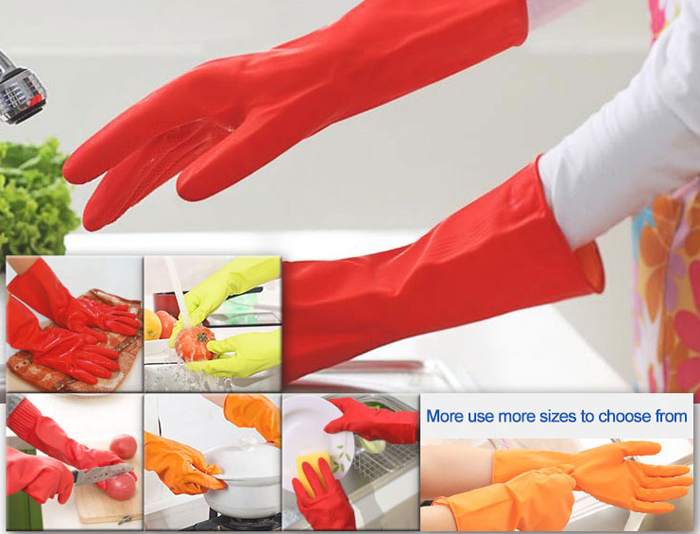 Latex gloves
Products made from natural latex are used for prolonged contact with water, non-aggressive detergents and cleaning agents. They are also used in works that require increased hand sensitivity (for example, when washing dishes). Latex gloves are very light and thin. The products have excellent stretch and have increased tensile tear resistance. Even with minor damage, latex gloves retain their protective properties and do not creep.
The main disadvantage of latex is its poor resistance to aggressive chemicals. Therefore, they are not recommended for use when cleaning tiles, bathtubs and toilet bowls. In addition, for people who are prone to latex allergies, these gloves can irritate the skin.
An important plus of latex gloves is their small thickness. Thanks to this, it is convenient to perform many tasks in them: cleaning fish, butchering meat, washing dishes, etc. Despite the fact that latex gloves are thin, they are resistant to minor mechanical damage. In addition, the products are able to withstand contact with alcohols, weak alkalis and acids.
Jiazhanli's latex gloves not only have the above advantages but also tested them for different groups of people. The test results show that Jiazhanli's latex gloves are extremely safe, and families of different groups can use them with confidence.
Nitrile gloves
If you need to perform work that requires tactile sensations (washing vegetables and fruits, cleaning fish, etc.), then it is better to choose nitrile gloves. They have impressive elasticity and tear resistance.
And Jiazhanli's nitrile gloves have the following characteristics:
It can be used for a long time in the air at 120°C or in the oil at 150°C.
Oil resistance, acrylonitrile content (%) in nitrile rubber has five types: 42-46, 36-41, 31-35, 25-30, 18-24. The more acrylonitrile content, the better the oil resistance.
Has good water resistance, airtightness and excellent bonding properties.
Jiazhanli Company does its best to make their products as convenient as possible for consumers to use. For example, latex household gloves can be used, which makes them more comfortable to use because they do not sweat. Similarly, some models of products have different types of non-slip coatings.
Jiazhanli's gloves have been sold all over the world. It has a competitive price for the suppliers to occupy the market, high quality is to bring health to the local people, we welcome suppliers from all over the world to cooperate with us, if you want to learn more, you can directly contact us!