2021/03/04 / By hqt / Tags:
Which Gloves to Choose: Vinyl, Nitrile or Latex?
Vinyl, Nitrile or Latex: Which Gloves to Choose?
Disposable gloves are an individual means of protecting the skin of the hands from the effects of various types of irritants. Gloves are made from different materials, which largely depend on the properties. What types of products are there and which ones are better to choose can be read below.
Types and requirements
According to the material of manufacture, there are 3 types of gloves: latex, vinyl, nitrile. Each has its own advantages and disadvantages.
All products must meet GOST standards and the necessary requirements:
Have sufficient strength;
Protect qualitatively;
Wrap your hand tightly;
Have a thickness of 0.08-0.11 mm;
Be hypoallergenic, biocompatible, easy to use;
Maintain tightness;
Be marked.
Vinyl Gloves
This type of gloves is made of polyvinyl chloride (PVC). Textop gloves are an example of vinyl products.
Their advantages include:
Easy to put on and take off;
They fit the hand well and take the required shape;
Dense, anatomical in shape;
Practically do not stretch;
Can be reused;
Suitable for protection against chemical and physical factors;
Affordable cost;
The risk of allergic reactions is minimal.
The disadvantage of vinyl gloves is their permeability to some proteins. This means that through contact with body fluids, transmission of the disease is possible. Therefore, vinyl gloves are suitable for healthcare workers only for the examination room. They are not designed to work with heavy loads, to carry out medical procedures.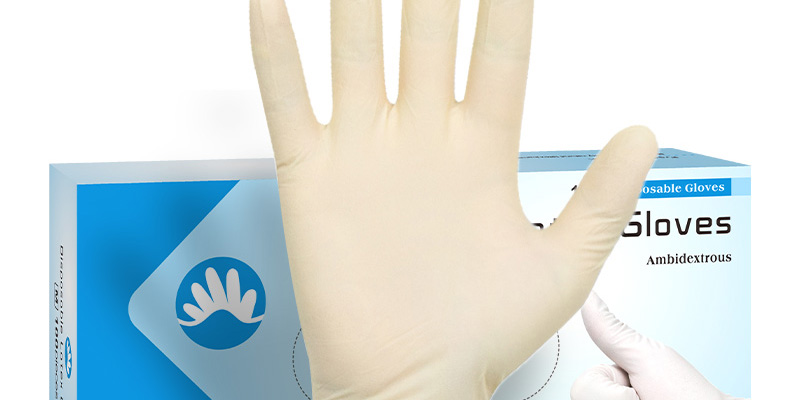 Nitrile Gloves
Made from nitrile latex (synthetic rubber). These include Paclan Contact gloves, Benovy. They are used in medical practice, as they are resistant to the effects of drugs.
Nitrile products have the following characteristics:
Excellent tightness;
High strength, reliability;
Universal shape;
Hypoallergenic;
The presence of the property – mechanical memory of the shape of the hand;
Complete protection against germs;
Resistance to acids, phenols, alcohol, aldehydes;
They are highly punctured resistant;
Has a textured structure in the area of the fingertips for comfortable handling of small tools.
The disadvantages of the product include insufficient elasticity for use in surgical practice. Prolonged use of nitrile gloves increases the risk of contact dermatitis.
Latex gloves
Latex products are the most common and most suitable for medical practice. They are quite thin, fit the hand well, and are comfortable to use.
Latex has the following advantages:
High strength and elasticity;
Excellent ergonomics;
Resistant to chemicals;
Preservation of tactile sensitivity, due to which the products are widely used in medicine;
Optimal price-performance ratio.
The disadvantages include the risk of allergies, the impossibility of reuse, with strong mechanical stress, the gloves break.
Latex or nitrile gloves? Which is better?
The choice of gloves should be based on the purpose of use. Nitrile are more durable, cut and puncture resistant. They are also less likely to cause an allergic reaction. Latex gloves retain their sensitivity very well and are comfortable to use, which is important for surgical and other precise manipulations.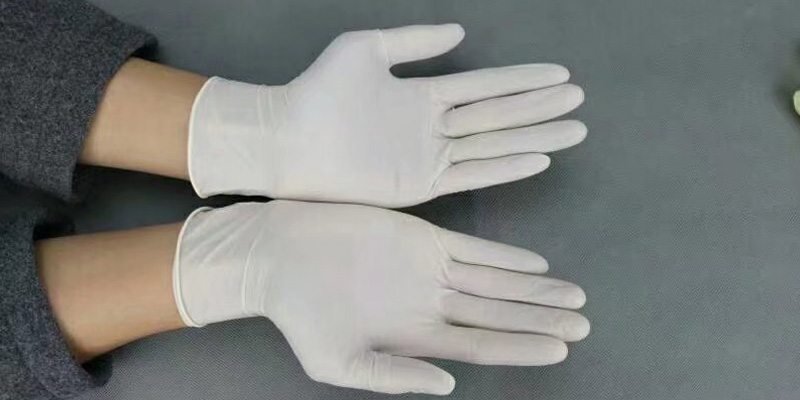 Which gloves are better: vinyl or nitrile?
Vinyl gloves are less tear-resistant and not suitable for healthcare professionals. They are often used by hairdressers and other beauty professionals. They are inexpensive, easy to use, antistatic and rarely cause allergies.
Nitrile gloves are resistant to various substances, therefore they are widely used in the food industry, medicine, when cleaning premises, etc. It can be concluded that it is better to choose products from nitral.
Which gloves are better: vinyl and latex?
Latex products are considered the best. They are made from rubber emulsion and are more natural. In terms of functional characteristics, latex has more advantages, but vinyl is more affordable.
Powder-free and powdered gloves
For a more comfortable dressing of gloves, powdered products are manufactured. They differ in the presence of a small amount of talcum powder inside each glove. For people who change products frequently (dentist, ENT), powdered gloves have the advantage of being easier and faster to put on. To this end, when using powder-free gloves, you can simply add a little talcum powder to your hands.
What to look for when choosing disposable gloves?
When choosing, you need to pay attention to the availability of certificates of quality, product composition, product integrity. You need to know for what purpose the products are purchased, for which works. Individual characteristics, preferences of the person who will use them are taken into account. In rare cases, an allergic reaction to the material from which the protective equipment is made may occur. In many ways, the choice depends on individual preferences, who in what gloves are more convenient and comfortable to work with.
Where to buy disposable gloves?
You can buy various types of disposable gloves in the online store – https://www.jzlsafe.com/. More detailed information, the price of products and any other information of interest will be provided by managers by the phone number indicated on the site. You can buy disposable gloves online, wholesale or retail, with door-to-door delivery.
For more information, please contact us.