2021/02/23 / By hqt / Tags:
What Are Rubber Gloves and How to Choose Them?
The use of rubber gloves is essential for a variety of household tasks. These products not only provide hands with reliable protection from dirt and chemicals but also simplify some manipulations.
Description and application
Rubber gloves are multifunctional products suitable for use in various spheres of life. The first thing that comes to mind is doing chores. Rubber products can be used for dishwashing, wet mopping, or plumbing cleaning. They are also needed in the garden during planting, weeding or other activities. You cannot do without them during repairs - gloves will allow you to keep the brushes clean during painting and other works.
Some housewives use gloves when preparing food: washing fruits with vegetables, processing meat, or cleaning fish. Durable acid-resistant gloves can be used in the chemical, pharmaceutical, or car service industries. For example, they come in handy during the development of medicines, accompanied by possible contact with chemicals, when interacting with electrolytes, or even the manufacture of fertilizers.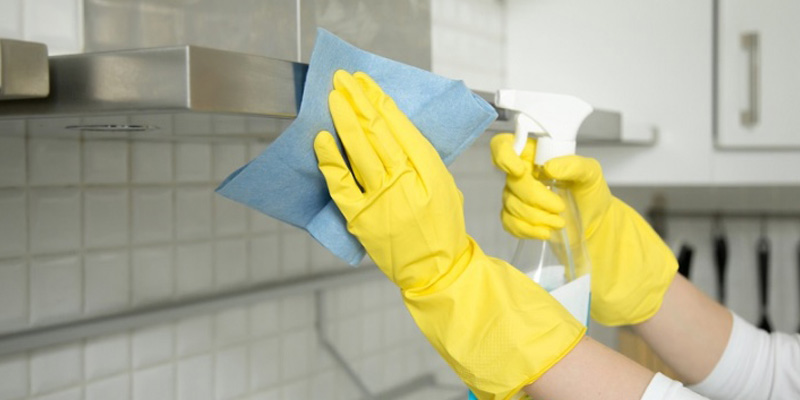 Rubber gloves made of polymer materials are usually divided into disposable and reusable. The former is thrown away immediately after the end of the work, while the latter can serve a longer period if thoroughly cleaned, sometimes up to a year. At the end of the work, such household accessories are washed with running water, dried and sprinkled with talcum powder. They should be stored protected from direct sunlight at temperatures from 5 to 15 degrees Celsius and, preferably, in their original packaging. Humidity should not exceed 85%, and all heating devices should be located remotely.
If we consider the characteristics of the product, then we can find that gloves perfectly protect against the negative effects of water, dirt, chemicals and reagents, detergents and objects that can lead to scratches. The adhesion to the hands is ensured due to the presence of the embossed surface. Rubber gloves should not be used for work involving interaction with electric current, for contact with particularly sharp elements or strong chemicals.
In the first case, we are talking about the use of nitrile and neoprene, and in the second - natural latex. The work is carried out using a seamless technology that makes the protective accessories denser and provides reliable protection for the skin. To achieve the best possible comfort, the inner surface of the gloves can be treated with cornstarch or talcum powder, and the outer surface can be coated with a special cotton dusting. In addition, chlorination of latex products makes it possible to lengthen their service life.
Wear rubber gloves only on dry hands. Before use, it is important to carefully inspect the accessories and find a replacement if any defects are found. If you have to work with strong chemicals for a long time, then it is better to alternate several pairs of gloves. It would be good to bend the edges of the cuffs to precisely prevent the ingress of hazardous substances onto the skin surface. When finished, the gloves should be washed and dried naturally, both externally and internally. Before the next use, they will again have to be carefully examined for cracks or breaks.
It is important to mention that the use of rubber gloves is not recommended for people who are sensitive to latex and other chemical additives.
Advantages and disadvantages
All rubber gloves are usually divided into those made of latex and those made of artificial rubber. Each category has its own advantages and disadvantages. Products made from natural latex stretch perfectly, but do not tear. Even if a puncture or cut occurs on the glove, it does not spread over the entire area. Latex specimens are thin and lightweight, making them comfortable to wear.
Nevertheless, such gloves are quite easily pierced and cut through, and also fail when interacting with aggressive chemicals. They slide a lot, which is not always convenient to work with. In addition, the tight fit of the hands can be uncomfortable for some people. In general, such gloves are suitable for work that requires increased sensitivity of the fingers, but does not imply interaction with strong household chemicals.
As for artificial rubber gloves, its advantages include resistance to aggressive substances, high resistance to punctures and cuts, and less slipping during use.
Among the shortcomings of the material, one can name poor elasticity, less sensitivity of the fingers and an instant increase in the holes that appear, which leads to the final deterioration of the gloves.
Species overview
Rubber accessories can only protect the wrist, reach up to the forearm, or have a long sleeve and stretch to the elbow. There are also elongated gloves with sleeves, the specificity of which is the different material used for its individual parts. There are no restrictions on color: these can be ordinary black, blue, yellow, green or red models, or they have a floral or geometric pattern. According to GOST, this product can be painted in the shade chosen by the manufacturer.
Rubberized knitted gloves are created taking into account the specifics of the work performed. Work items can be either seamed or seamless, and also have partial casting. There is also an option with the addition of an impregnation that improves performance. Insulated winter gloves, as a rule, have a fleece or other soft fabric lining inside.
Latex
Latex gloves are made from natural rubber. They are purchased mainly for those jobs that require increased sensitivity of the fingers. For example, it can be washing fruits and vegetables, wiping dust, painting surfaces, interacting with ceramics and glass. However, it is important to remember that latex enters into a chemical reaction with detergents, so this option is not suitable for washing the floor and dishes.
Artificial rubber
Thick artificial rubber gloves are also thicker. Since they create the best protection, including against aggressive chemicals, they are allowed to be used for more complex work.
For the manufacture of such gloves, nitrile, neoprene and polyvinyl chloride are most often used.
Popular brands
Quite good rubber gloves are made by the jiazhanli brand. Rubber products are highly durable, but they feel extremely comfortable on the hands. The gloves are designed to fit your hands, are waterproof and are relatively easy to remove. Products of the jiazhanli brand receive excellent reviews. Despite the fact that the products are too large, their use is comfortable and simple. The durable gloves will not tear, keep moisture out and keep your hands feeling sensitive.
Selection Tips
When choosing rubber gloves, the first step is to pay attention to their dimensions. In order to comfortably take off and put on the product, their size should match the size of your hands. The length of the cuff is no less important: the larger it is, the more reliable the protection against inflowing water will be. Therefore, for example, for the most "wet" works, it is better to immediately purchase shoulder-length models.
The choice of certain gloves is also made depending on the specifics of the work performed. Washing dishes, cleaning or cleaning plumbing can be carried out in latex products, and for other situations, especially durable gloves made of thick artificial rubber are more suitable.
For more information, please contact us.